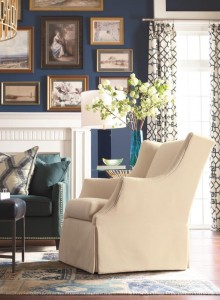 A great chair can change your life. OK, I know that sounds a bit over dramatic, but seriously, if you have a comfy place to sit, think of the implications!
You would make time to settle in with a good book, and refill your tank in the process. Then you could use all that new energy to run a marathon or volunteer at a homeless shelter.  Right?
You would linger longer over conversation with great friends because you wouldn't want to get up, and, eventually you all would come up with solutions to all the world's problems. World peace, at last!
You would catch up on the news, the hit TV shows and the big game, so you would have lots to talk about around the water cooler at work. As a result, you would be so politically well connected, chances are you would win that promotion or big raise. Imagine!
See how your fortunes could change just because of a great chair? Here's the chair that can deliver all that powerful comfort (but the world-altering results will be up to you):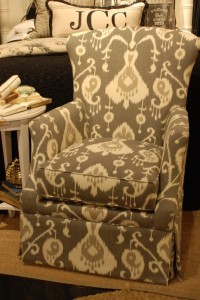 Everyone who comes into Nell Hill's these days looking for furniture wants a chair that can deliver both high style and oodles of comfort. (Right now, that's lots of folks because Jan. 15 through Feb. 15, all of our upholstered furniture is 20% off – even custom orders!) For most of us, gone are the days when we wanted more formal furnishings that look sensational but are no fun to sit on. The world is getting more casual, and we want furniture that allows us to live our real life, a place we can tuck our feet up under us, snuggle in and check our Facebook page on our phone. For me, that chair is a swivel glider.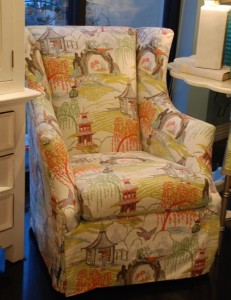 I NEVER thought I would sell a swivel glider at Nell Hill's. In my mind, these chairs were something my grandmother would love in her home, but not me. Then the motion revolution began, and furniture designers mashed together blissful comfort with head-turning styling and created the chair you are proud to have in your home and that you can hardly pry yourself out of.  Our rep for CR Laine reports that their motion chairs are so popular now, they account for half of their sales.  I won't get into the nuts and bolts of how these chairs are made, but they are carefully designed to deliver melting comfort to everyone from a petite 5'2" woman to a big old 6'2" man.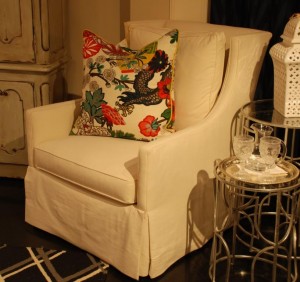 When I started carrying swivel gliders at Nell Hill's, I was amazed when our customers in their 20's and 30's went wild over them. But it makes sense – they don't have the "this is my grandmother's chair" perceptions about motion chairs, like I did.  Instead, they saw all the lovely classic and contemporary lines, wide mix of fabrics and trim, and sink-into coziness, and fell in love.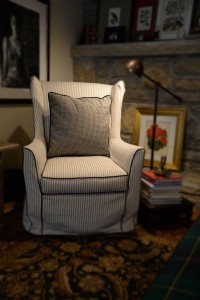 Young moms are loving motion chairs for their nurseries and families are using them in their hearth rooms or family room.  As husbands patiently wait for their wives as they shop at Nell Hill's, they flop down in our swivel gliders and melt in, happy as clams. All they need is a TV with a game on, and they would never want to leave. Dan and I have two swivel gliders in our basement TV room for that very reason. See the chair in the photo above? This is where you'll find Dan every Sunday watching the Kansas City Chiefs.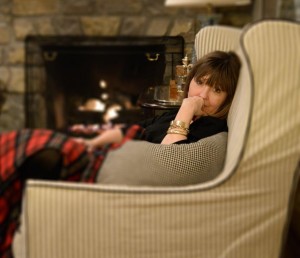 Me? I'm glued there, too, with my legs tucked up under me, snuggled under a throw blanket, watching old movies.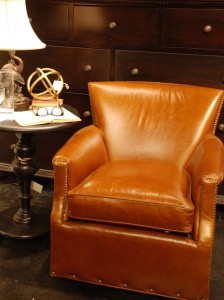 At Nell Hill's we are now carrying a wide array of these beauties. You'll find traditional silhouettes, like wing backs, covered in classic fabrics like men's wear patterns or linens. And you'll find transitional frames covered in funky geometric patterns in the season's hottest colors.  Because they are chairs people really live in, lots of families want the motion chairs covered in our outdoor fabrics, which look and feel like regular upholstery but can withstand kids, pets and husbands.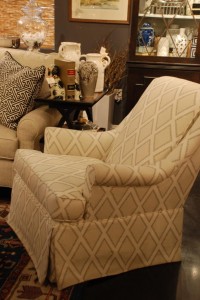 This winter, as you cocoon, find yourself a comfy chair. It could change your life! Just a reminder: All our upholstered furniture, including swivel gliders, will be 20% off during our semi-annual Upholstered Furniture Sale at Nell Hill's Briarcliff, Jan. 15-Feb. 15. Hope to see you soon!
Next Week … Ottomans are one of my favorite pieces of furniture because you can use them to add so much flair and style to your home.