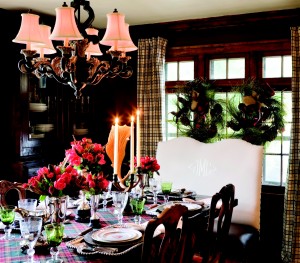 Give your home the sophisticated charm of an English manor this holiday season by decking the halls with the equestrian themed holiday décor that is captivating hearts this holiday season. Depending upon your fancy, you can take this timeless look in any direction, from whimsical to classic. Here's how.
Dress Your Table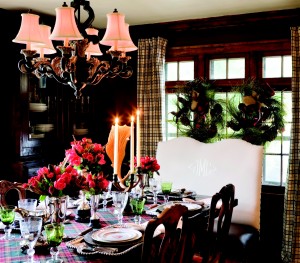 One of my favorite spots to do up big for the holidays is my dining room. Dan and I entertain quite a bit between Thanksgiving and Christmas, so I give this all-important room a big treatment. Through the years, I've reinvented the English hunt club look over and again, and still, it feels fresh and new and full of possibilities.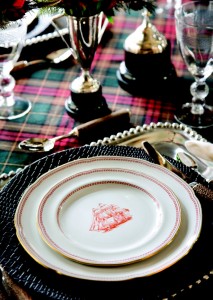 Start your table treatment with beautiful linens, like a rich plaid or paisley tablecloth and crisp white linen napkins. I like to use trays as chargers when I dress my table for a dinner party because they do a masterful job of grounding each place setting and lending them an air of distinction. For this knockout table, we layered things up with a round leather charger to bring in some moody texture. White china is perfect for an equestrian table. Or use a china pattern that evokes images of England, like our red trimmed plates that pay tribute to the sea. I really like the addition of the faux antler handled cutlery.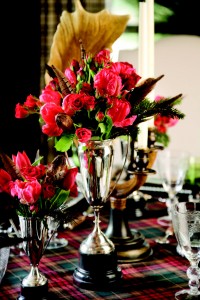 There are so many directions you can go with your centerpiece on an equestrian themed table that the sky is the limit. Here, we used a cluster of trophy cups as vases for fresh flowers. Faux stag antler candlesticks add dramatic height.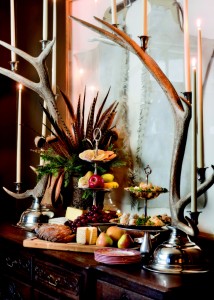 The stag candelabras carry the look set on the table over to the buffet, which is arranged so beautifully it looks like a Dutch painting. Even though the grouping is a show-stealer, it's easy to create. Start with a pair of tall candelabras to frame the scene. Add in another themed accent for fun, like this vase holding pheasant feathers. Then, display your food on different sized multi-leveled servers. Place artisan bread, a wedge of cheese and fresh pears on a simple wooden cutting board and you've got a tantalizing tableau in minutes.
Trim Your Tree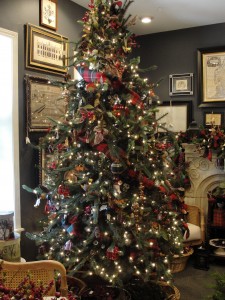 It's fun to bring a holiday theme to life on your Christmas tree, isn't it? We played it up big with our equestrian tree at Nell Hill's Atchison, tilting towards excess to celebrate this season of wonder and whimsy.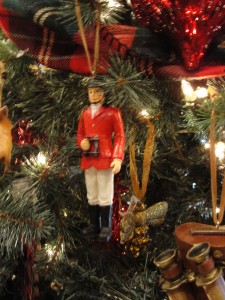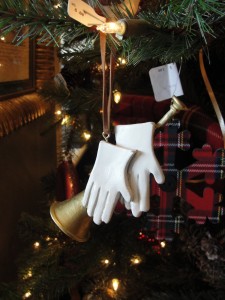 We dotted the tree with this fanciful line of equestrian ornaments that depict all facets of the hunt. They are fun and frolicking, aren't they?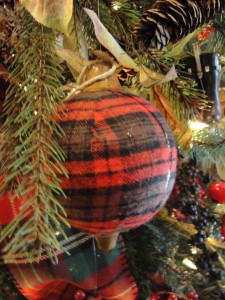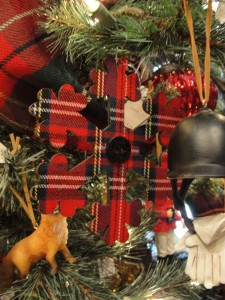 I can't seem to get enough of plaid this time of year, so it was a treat to find these adorable plaid balls and snowflakes. They looked fabulous with our ribbon garland that twisted through the boughs of the tree.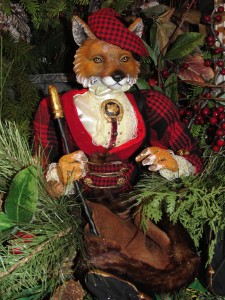 Tuck an irresistible figurine, like this fox dressed in finery, into the branches of your tree. Using one over-sized ornament as a focal point in your Christmas tree is a fun way to surprise guests.
Deck Your Mantel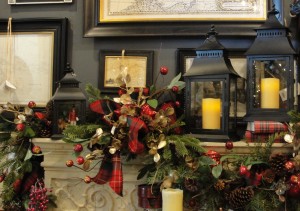 In addition to your tree, your fireplace mantel is one of the most important spots to decorate for the holidays. We really brought our equestrian theme to life on this display mantel at Nell Hill's Atchison.  We started by trailing a traditional evergreen garland across the mantel, securing it in place so it didn't slip off and send everything crashing to the floor. Then we filled out the garland by adding in several interesting picks, like fat red berries and gilded leaves, tying everything up with a perky plaid bow.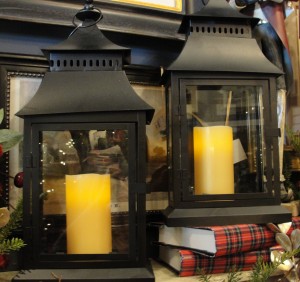 Every good mantel design needs some elements that bring in dramatic height. We found it here with these traditional black metal lanterns holding battery operated pillar candles. Use a riser, like this stack of plaid paper-covered books, to give accents an added boost so they aren't the same height.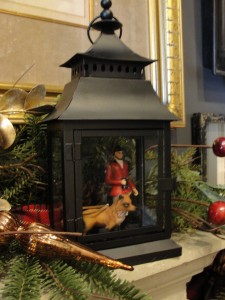 I like to add something playful and unexpected to holiday displays, just to make guests smile. On our display mantel, it was this lantern that boxed together the hunter and the fox, both of whom seem to be looking for a way to escape.
Make Your Entire Manor Merry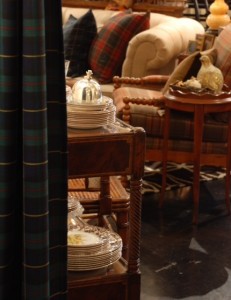 When we dress Nell Hill's for the winter holidays, we bring in a wonderful mix of menswear fabrics, weaving them into our bedding ensembles, our upholstered furnishings and our window and floor coverings. The snapshot above gives you a glimpse into one of our galleries, tastefully appointed in winter fabrics that are to-die-for.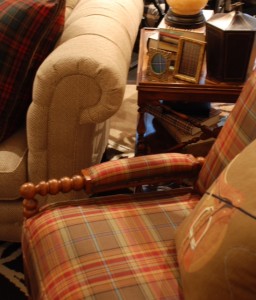 While a plaid sofa might be too much, don't be afraid to cover a side chair or two in a toned-down plaid pattern, as we did here. Then, dress up the chair with an equestrian themed accent pillow for fun.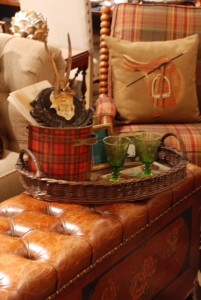 This luxurious leather ottoman coffee table is simply magnificent and works perfectly with the plaid fabrics and accents in this furniture grouping.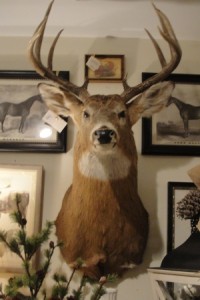 Are you a fan of the hunt club look but don't hunt yourself? Cheat and get a deer's head at Nell Hill's! Hunting trophies like this one look great hung over the mantel.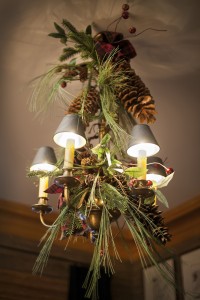 It just takes minutes to make your light fixtures look like a million bucks. To get this winning effect on the charming chandelier in my study, we secured a few pine picks, red berry picks and some big pinecones to the chain with florist wire then finished off with a plaid ribbon.
Next Week … I'll share another of my favorite looks for holiday decorating: shining, sparkling, sophisticated silver.